The freelance travel writer lifestyle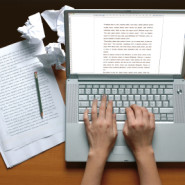 Freelance travel writing is, without doubt, the dream job. You get to explore the world, describe new experiences and spend time writing, all in the hours that suit you. But like any occupation, while it's very rewarding, it can come with a few challenges. So if you're considering travel journalism as a career, have a think about the kind of lifestyle it entails to decide if it's definitely the thing for you.
The travel writing rollercoaster
There's no denying that being a freelance travel writer can lead to some thrilling – and occasionally all-expenses-paid – adventures. Even interns sometimes get free trips to exotic destinations. You'll have to write about them of course, you can't sunbathe the whole time! Some writers can find themselves in tricky situations, for example deciding to review a hotel or location that wasn't quite up to scratch.
And while there's plenty of excitement in the freelance travel writer lifestyle, much travel journalism can be a little on the mundane side. You'll find yourself taking commissions to write about the different types of cabin on a cruise ship, or tips on how to book tickets for musical performances. If this still inspires you to pick up your pen, then you might just be cut out for this career!
Timing it right
Ask any freelancer travel writer what they love most about their way of life and they will say the flexibility to work when they want. There's nothing like choosing hours to suit you; taking a long lunch break or working on a Sunday so you can visit friends mid-week, or adjusting your working hours to look after your family.
However, to achieve this fine balance, you will need to be motivated. When you work for yourself, you will need to make yourself sit down at the desk and get on with things without a nudge from anyone. Some people can find this difficult. You'll need to be very organised, keeping accounts for tax purposes, generating and chasing invoices, and managing your time efficiently. If you don't know how to do this already, after a few months of being a freelancer there'll be no stopping you!
From solitary travels to a people jungle
Writers tend to be introverts by nature. We like to wander alone, musing over our thoughts and spending time in our own private space, writing down our ideas. There's no doubt that the freelance travel writer lifestyle can be solitary at times. Even if you have a partner or a family, you'll sometimes have to travel alone for a commission and you'll get used to spending time away from home in order to do your research and writing on location.
This can be hard for everyone, including natural introverts, so you and your loved ones will need to find ways of staying in touch and managing in your absence. Luckily, access to the internet is prevalent in all but the most remote locations. If you haven't discovered it yet, sign up to Skype for free or low-cost video calling.
On the other hand, freelance writers will be faced with lots of different people in their day-to-day working lives and you'll need a charming side to manage everyone's (often conflicting!) expectations. You will have to deal with pushy editors changing your copy and public relations staff wanting you to write about particularly boring things. But for a lot of freelance travel writers, this is all part of the fun!
Despite all the pros and cons, there is no denying that a freelance career can be extremely satisfying, and as challenging as you want to make it. The world's your oyster, so give it a go!